Today is Nick and my 6th "date-iversary!" (The anniversary of our first date, in case you couldn't figure that out.) On October 5, 2003, Nick and I officially became an item. I wanted to do a "Not Me" post, but I also wanted to talk about the last 6 years, so I decided to combine them. Hopefully, MckMama (who thought up "Not Me" Monday) won't mind.




Here goes...
I did
not
meet my husband in third grade when he started attending my church.
I did
not
remain completely oblivious to him until after I moved to Minnesota, and he hit puberty and got extremely good-looking. I would
never
do such a thing, because that would be shallow.
I did
not
say to my mom, after a visit to our old church, that I wanted to marry someone like him someday. (She did
not
answer, "Well, he seems to be available." I did
not
roll my eyes.)
My mom does
not
claim to have known before either of us did that he was "The One." (My mom is awesome like that.)
My heart did certainly
not
go aflutter every time I saw his name in my email inbox! (While we're at it, I obviously did
not
let it be known that I had the hugest crush on him EVER to my mom, sisters, and best friends.) (I also did
not
carry a picture of him around in my wallet.)
I obviously do
not
remember the first meal we ate together or first movie we saw together, even though we were just friends. (It
wasn't
Subway sandwiches eaten in a gazebo or "Spiderman.")
I did
not
bat my eye lashes and nicely ask if he'd skip school to attend a family funeral with me. (He, of course, did
not
do that, because that would be educationally irresponsible.)
I did
not
think to myself, "Maybe now we can get together," when my family moved back to Illinois after 4 years in Minnesota.
I did
not
get extremely irritated with him for being completely oblivious that I was totally in love with him in the 8 months between moving back to Illinois and when we got together.
I did
not
bribe my then 6 year old sister with treats so he and I could "talk about the possibility of getting together" while at the fair.
I did
not
jump for joy when he decided he wanted to pursue our courtship!
I certainly did
not
realize, before writing this post, that this picture is the earliest one I have of the two of us in digital format.
This is May 2004. Oh, how young we were!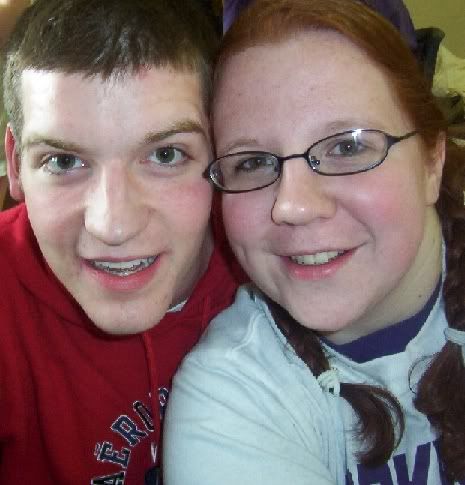 I also did
not
realize that I am more in love with this man than I was 6 years ago!
This is not a picture of us freezing our heinies off at my brother's football game last Friday night.

I love you, Honey! I can't wait to see what the next years bring. Thanks for being such a godly man and showing me love every day!
(Do you feel like puking yet?)